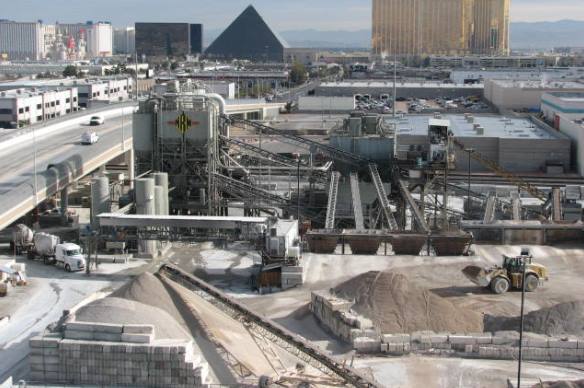 In 1960, Nevada Ready Mix, a Nevada Corporation was founded as a family business.
In 1987, the concrete assets of the original Nevada Ready Mix were sold to a newly-formed company, the current Nevada Ready Mix Corporation, a Delaware Corporation. NRM is wholly owned by Mitsubishi Cement Corporation Development. Mitsubishi Cement Corporation purchased NRM in 1987 and the Lone Mountain Gravel Pit in 1988. The acquisition of the Lone Mountain Pit put NRM in a unique and strong position. NRM is the only fully vertically integrated concrete supplier in the market. Our parent company, Mitsubishi Cement Corporation, supplies one hundred percent of our cement, and we mine and utilize one hundred percent of our own concrete aggregate.
Nevada Ready Mix Corporation acquired the assets of Las Vegas Building Materials and the Lone Mountain Gravel Pit in 1989. These two operations were combined with Nevada Ready Mix Corporation, creating the largest supplier of concrete aggregate in the State of Nevada. We have a staff of dedicated professionals who are committed to providing the highest quality and the best possible service in the business.
Today, the same management team has been directing Nevada Ready Mix. We have supplied over 50 Million cubic yards of concrete under the management of those same individuals. Our products are recognized by NSF International as certified Environmental Product Declaration (EPD's) by complying with the North American PCR for ISO 14025 Type III creating a "Carbon Footprint". In addition, our products can help with any LEED-certified buildings projects you may have. Consistent in house control of all ingredients combined with consistent and experienced management, place NRM as the unchallenged leader, uniquely and solely qualified to be your concrete supplier.